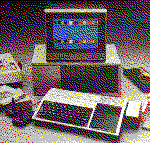 Contact & Warrantee Information

---
All TI 99/4a & Geneve products come standard with a 3 month warrantee.
---
THREE-MONTH LIMITED WARRANTY
Western Horizon Technologies Inc., extends this consumer warranty only to the original consumer purchaser.
WARRANTY COVERAGE
This warranty covers the electronic components of the product. These components include all semiconductor chips and devices, diskettes, plastics, boards, wiring, and all other hardware contained in the product ( "the Hardware"). This limited warranty does not extend to the programs contained on the diskette, ROM or cartridge or the accompanying book materials ("the Programs").
The Hardware is warranted against malfunction due to defective materials or construction. THE WARRANTY IS VOID IF THE HARDWARE HAS BEEN DAMAGED BY ACCIDENT, UNREASONABLE USE, NEGLECT, IMPROPER SERVICE, OR OTHER CAUSE NOT ARISING OUT OF DEFECTS IN MATERIALS OR WORKMANSHIP.
WARRANTY DURATION
The Hardware is warranted for a period of three months from the date of original purchase by the consumer.
WARRANTY DISCLAIMERS
ANY IMPLIED WARRANTIES ARISING OUT OF THIS SALE, INCLUDING BUT NOT LIMITED TO THE IMPLIED WARRANTIES OR MERCHANT ABILITY AND FITNESS FOR A PARTICULAR PURPOSE, ARE LIMITED IN DURATION TO THE ABOVE THREE MONTH PERIOD. WESTERN HORIZON TECHNOLOGY SHALL NOT BE LIABLE FOR LOSS OR USE OF THE HARDWARE OR OTHER INCIDENTAL OR CONSEQUENTIAL COSTS, EXPENSES, OR DAMAGES INCURRED BY THE CONSUMER OR ANY OTHER USER.
Some states do not allow the exclusion or limitation of implied warranties or consequential damages, so the above limitations or exclusions may not apply to you.
LEGAL REMEDIES
The warranty gives you specific legal rights, and you may also have other rights that vary from state to state.
---
For orders, repairs, and additional information, call or write us at:

Western Horizon Technologies
5513 Azure Ridge
Las Vegas, NV 89130
(702) 496-1842 Voice

Or e-mail us at: don@whtech.com
---
Copyright ©1996 Western Horizon Technologies
Please direct problems or questions to don@whtech.com, or call (702) 496-1842.