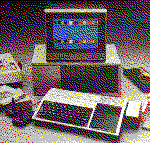 TI 99/4a Hardware Reference Manuals

Interface Standard & Design Guide
$24.95 U.S. + $3 s&h
This unique book by P.E. Tony Lewis is the hardware hackers Bible. Packed with over 100 pages of information on the inner workings of the TI 99/4a, Peripherals and the P.E. Box, it is the essential resource for the programmer or hardware enthusiast. Example schematics on basic interfacing and all the standard TI peripheral cards allow the advanced user to make their own repairs. Ever wondered how a DSR works? Explore the Horizon ROS DSR and learn how peripherals communicate with the 99/4a. Spiral bound and three hole punched for easy reading. Includes source and utility disks of programs mentioned in book.
---
Copyright ©1996 Western Horizon Technologies
Please direct problems or questions to don@whtech.com, or call (408) 259-4411.