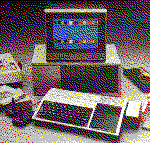 TI 99/4a & Myarc Geneve Links

Information about the TI 99/4a and other obsolete computers.
---
Best 99/4a home page to date. Tons of information about carts, vendors and lots of screen shots!
Check this one out!
---
All the best information around on the TI 99/4a. This one is a true Shrine!
---


This TI-99/4A Ring site is owned by Western Horizon Technologies
Next Page | Skip It | Next 5 | Previous | Random
Want to join the ring? Get the information.
---
Copyright ©1998 Western Horizon Technologies
Please direct problems or questions to don@whtech.com, or call (408) 259-4411.